Local. Trusted. Family Owned.
Pressure Washing Whispering Pines, NC
Top-Rated
Power Washing in Whispering Pines, NC
The professionals from Gentle Renew Exterior Cleaning are pleased to offer superior pressure washing Whispering Pines, NC services, and power washing Whispering Pines, NC services to all homeowners in the community. A thorough pressure washing service Whispering Pines, NC, project can transform the appearance of your property, unlike any other service. Pressure washing or power washing services Whispering Pines, NC area can also help protect the integrity of your building supplies and help increase the value of your home, too. If you have been looking for a Whispering Pines pressure washing near me service or a Whispering Pines power washing near me service that is reliable, honest, and affordable, then please reach out to the pros from Gentle Renew Exterior Cleaning today!
We are a locally-owned and operated company. We are also fully insured, licensed, and certified to clean a wide array of outdoor surface areas. As one of the many Whispering Pines power washing companies near me, we hope to be the outstanding exterior cleaning company you choose for all of your outdoor cleaning projects. Customer satisfaction is a high priority to our team, and we will do everything we can to ensure you are happily satisfied with our friendly customer service and our remarkable results.
Searching for Whispering Pines
Pressure Washing Near Me?
We have many pressure washing and power washing services in Whispering Pines, NC, the area we offer to our customers. Some of the services we provide include; roof cleaning, house washing, gutter cleaning, window cleaning, patio cleaning, deck cleaning, concrete cleaning, and so much more. We are an all-inclusive exterior surface cleaning company, and we aim to take care of all of your outdoor cleaning needs. From soft washing to power washing, we have the ability and the equipment needed to remove all types of dirt and grime from outdoor surfaces.
The community of Whispering Pines is a welcoming and quaint area. Approximately 3,500 people live in Whispering Pines, and many more people visit the area throughout the year. Located in Moore County, Whispering Pines is another community in the county that offers plentiful opportunities for golf, tennis, swimming, horseback riding, hiking, and many other attractive recreational activities. Whispering Pines is dotted with some beautiful and engaging parks, including; Spring Valley Lake Park and Thagard Lake Park. Both parks offer boating, hiking, swimming, wildlife watching, and plenty of open space to run, play, relax, and enjoy the scenic area.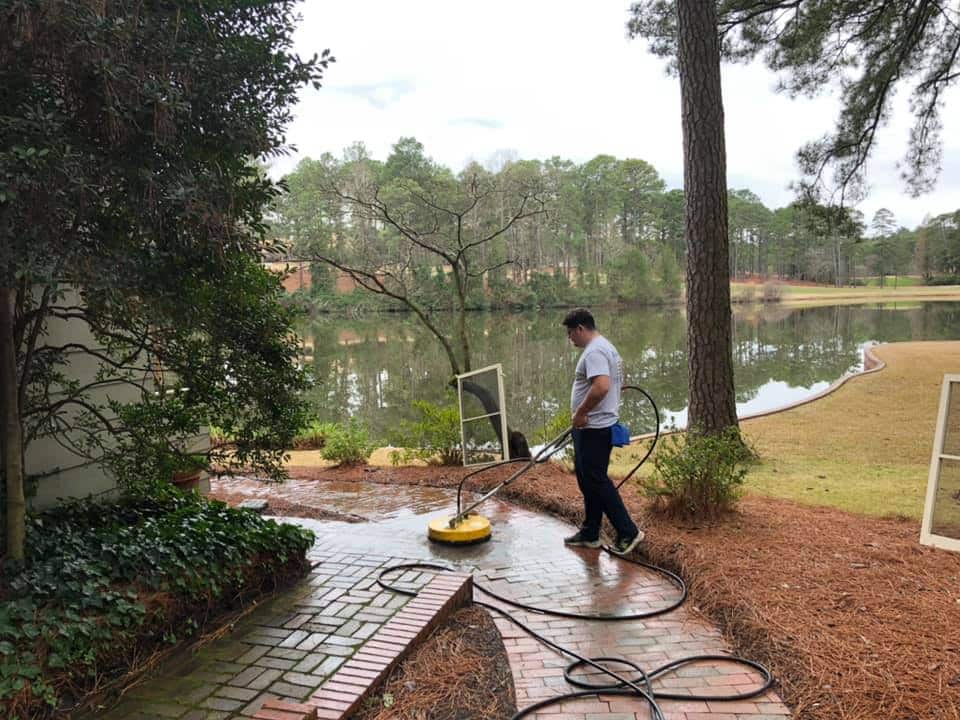 Local. Trusted. Family Owned.
Power Washing Services Whispering Pines, NC Residents Trust
Call Today for Pressure
Washing Services in Whispering Pines, NC
If you live in the community and you have been searching for a pressure washing service near me Whispering Pines, NC, or for Whispering Pines power washing services near me, then please remember our well-established company, Gentle Renew Exterior Cleaning. Our team members are an enthusiastic, hardworking group of experts, and we take great pride in the remarkable services and workmanship that we provide for our customers. As local residents ourselves, we understand the environmental challenges our building supplies are faced with throughout the year, and we know how to care for all types of building supplies around the region.
If you would like to learn more about the pressure washing Whispering Pines, NC services we offer, then please contact a representative from Gentle Renew Exterior Cleaning at your earliest convenience. We are glad to answer any questions you have for us, give you an estimate for potential service, or schedule your next pressure washing service today. We look forward to speaking with you at any time!
We also offer the following services in Whispering Pines, NC: