Local. Trusted. Family Owned.
Commercial Pressure Washing Southern Pines, NC
We Also Offer Top-Rated
Commercial Window Cleaning in Southern Pines, NC
If you are the owner or manager of a commercial property, then you already know the many things you need to do to maintain the property and protect the value of the property, too. The professionals from Gentle Renew Exterior Cleaning would like to help you. We offer reliable commercial pressure washing Southern Pines, NC services, commercial power washing Southern Pines, NC services, and commercial window cleaning Southern Pines, NC services to all of our customers. Our goal is to be your trusted partner in helping you maintain all outdoor surfaces of your place. We want to relieve some of your cleaning chores and help you enhance the area that is so important to you.
Many local customers partake in the commercial pressure washing services Southern Pines, NC, projects we offer. We provide cleaning services for commercial building washing, sidewalk cleaning, driveway cleaning, drive-thru cleaning, paver cleaning, and so much more. Our experienced cleaning crew uses cleaning processes from soft washing, pressure washing, and commercial power washing services in Southern Pines, NC, to clean all types of outdoor surface materials. We use the best procedures for each particular outdoor surface so we can clean each surface completely without causing damage to the building supplies.
Commercial Power Washing
Southern Pines, NC Residents Trust
Gentle Renew Exterior Cleaning is a locally-owned and operated company. We understand the local weather elements that cause problems for building materials in the region. As a fully licensed, insured, and certified company, we have acquired the training and the expertise needed to provide dependable pressure washing and Southern Pines commercial window cleaning services in a safe, predictable, and professional manner. Furthermore, we use top-of-the-line cleaning machinery and detergents to rid your outdoor surfaces of mold, mildew, algae, insect nests, pollen, and any other substance that has developed over time. We know that the success of your business often depends on the appeal of your property, and our goal is to care for your property thoroughly and professionally with every single service.
Southern Pines is a quaint and welcoming town. Located in Moore County, Southern Pines is home to around 14,000 people. The community is well-known for being a nice place to live in and to raise a family. It is also known for being a major equestrian destination within the state and within the country, too. Southern Pines is dotted with scenic horse farms, stables, and attractive riding trails, such as the trails found at the Walthour-Moss Foundation property.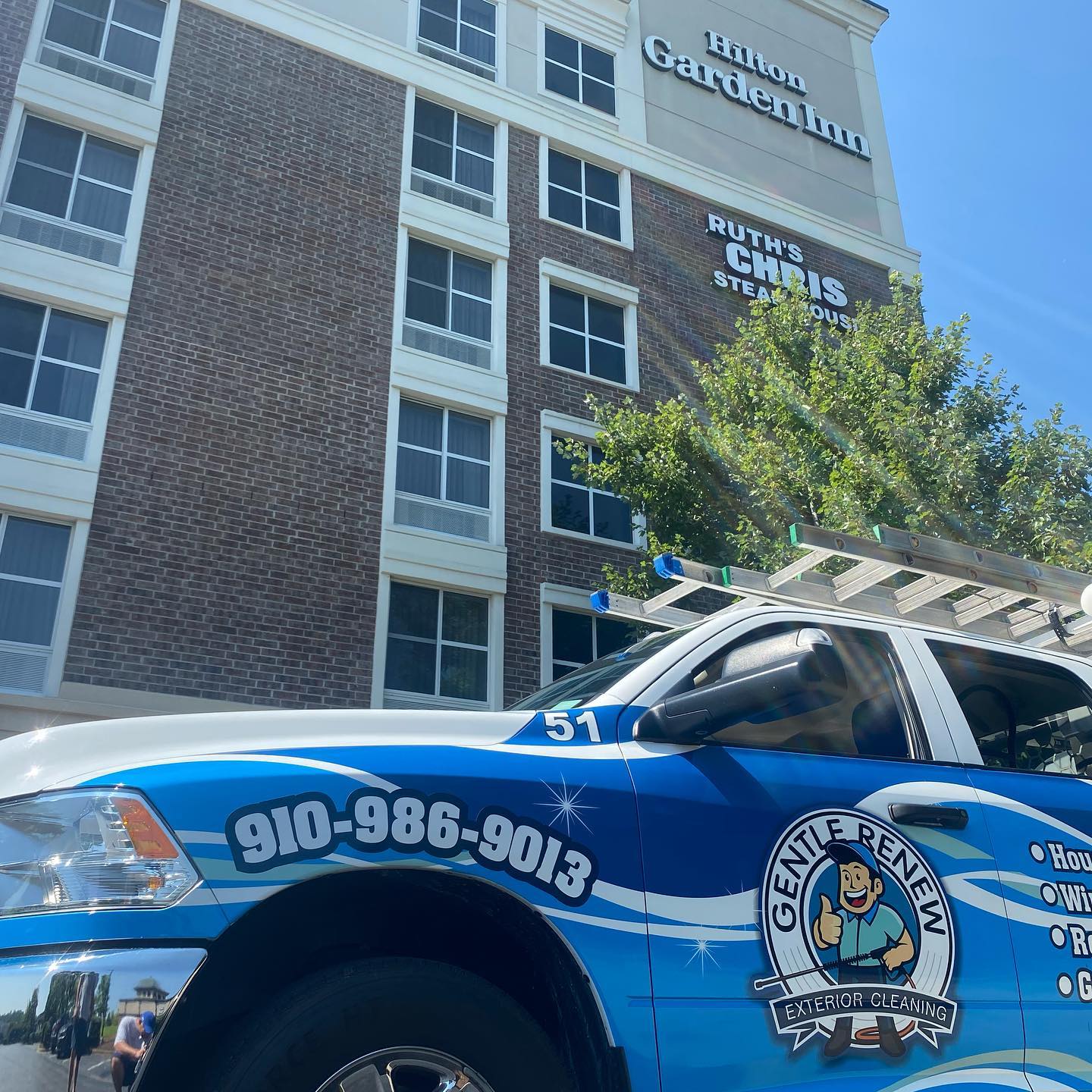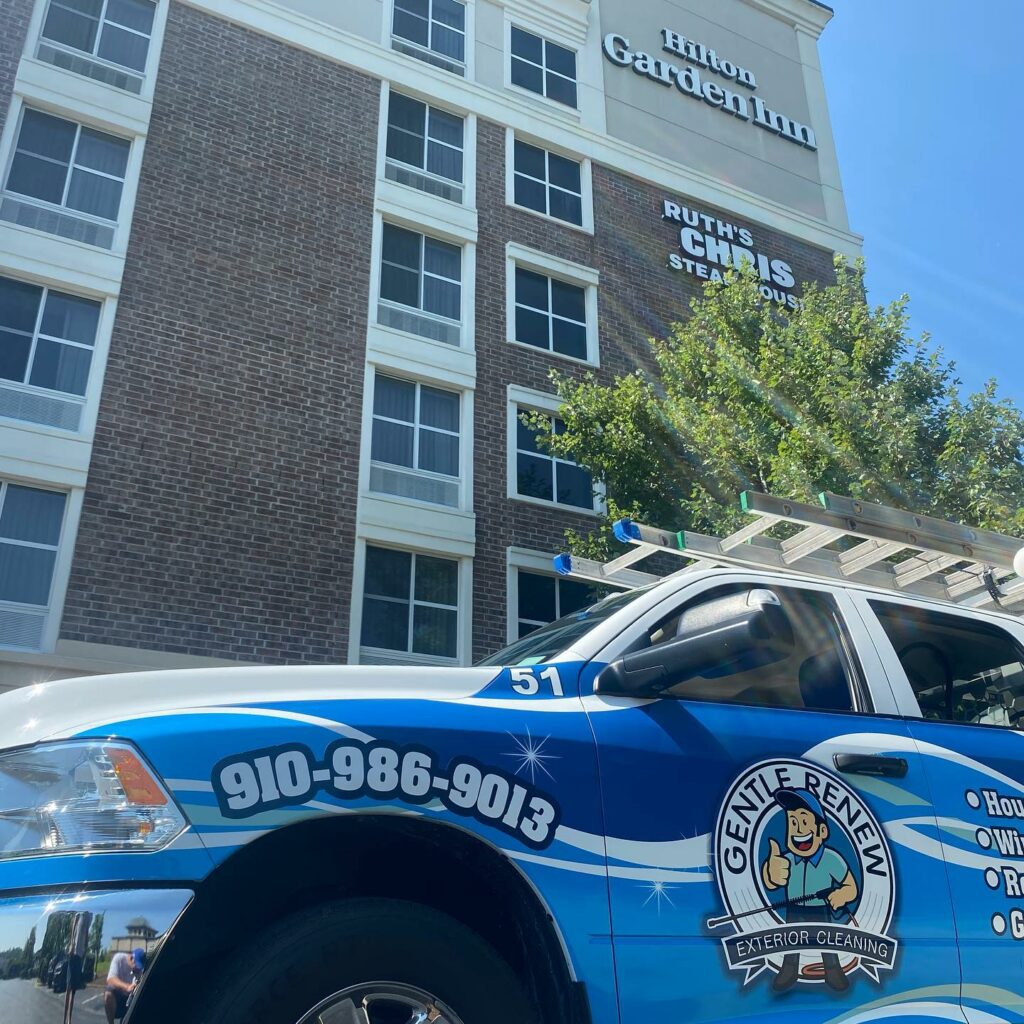 Local. Trusted. Family Owned.
Searching for Southern Pines Commercial Window Cleaning Near Me?
Call Today for Commercial
Window Washing in Southern Pines, NC
If you live or work in the Southern Pines community and you have been searching for professional pressure washing services, Southern Pines commercial power washing services near me, or Southern Pines commercial window cleaning near me services, then please reach out to the experienced crew from Gentle Renew Exterior Cleaning. From power washing rust or graffiti stains from your property to providing exquisite Southern Pines commercial window cleaning services near me, you can trust that we will do our very best to give you the services and the results you expect from a truly professional company.
Our team members are always available to answer any questions you may have about the pressure washing services or the commercial window washing Southern Pines, NC, services we provide, or we can schedule your next appointment any time, as well. We are available year-round, and we look forward to hearing from you and working with you throughout the year!
We also offer the following services in Southern Pines, NC: