Local. Trusted. Family Owned.
House Washing Carthage NC
Searching for Carthage
House Washing Near Me?
Once a building has been constructed and has been put into use, it is set on a downward trend of depreciation. Day after day, year after year, the building continues to lose value as well as certain parts of its functionality as time goes on. While you cannot stop this trend, there are certain things you can do to slow down the trend, and one of these things is building maintenance.
Now, there is no need to define building maintenance; everybody knows what it is. However, do you know that house washing is an aspect of building maintenance? In fact, it is one of the first and most basic ways to start building maintenance.
By getting rid of accumulating dirt and stains, house washing sets you on the path of effective building maintenance as it helps you see other things that you need to work on in the building.
However, there is more to house washing than simply cleaning the house. While the result remains the same, i.e., getting a clean building, the approach to achieving this goal is so complex and diverse that you need a professional to handle it. This is where Gentle Renew Exterior Cleaning Service comes in.
Top-Rated Soft
Washing in Carthage
Gentle Renew Exterior Cleaning Service is a professional building maintenance company that specializes in exterior house cleaning. One of our offerings, amongst many, is the house washing services.
Our house washing service is designed to help you effect a total overhauling cleaning process for a building, be it residential or commercial. The idea is to renew the lifecycle of the building by effecting a cleaning and washing process that turns the building into a new one.
Our house washing services in Carthage, NC, involve the deployment of different cleaning methods and approaches, such as soft washing, pressure washing, siding washing, and others, with the sole purpose of achieving a stain-free building. With our house washing service, you can expect that all types of stains and dirt, regardless of their location in the building, will be cleared off.
We do not only employ the right cleaning techniques, but we also use the right cleaning professionals. When it comes to building maintenance, you cannot take away the place of experience, expertise, and professionalism. These three attributes are hallmarks that define our service and the professionals that provide them at Gentle Renew Exterior Cleaning Service.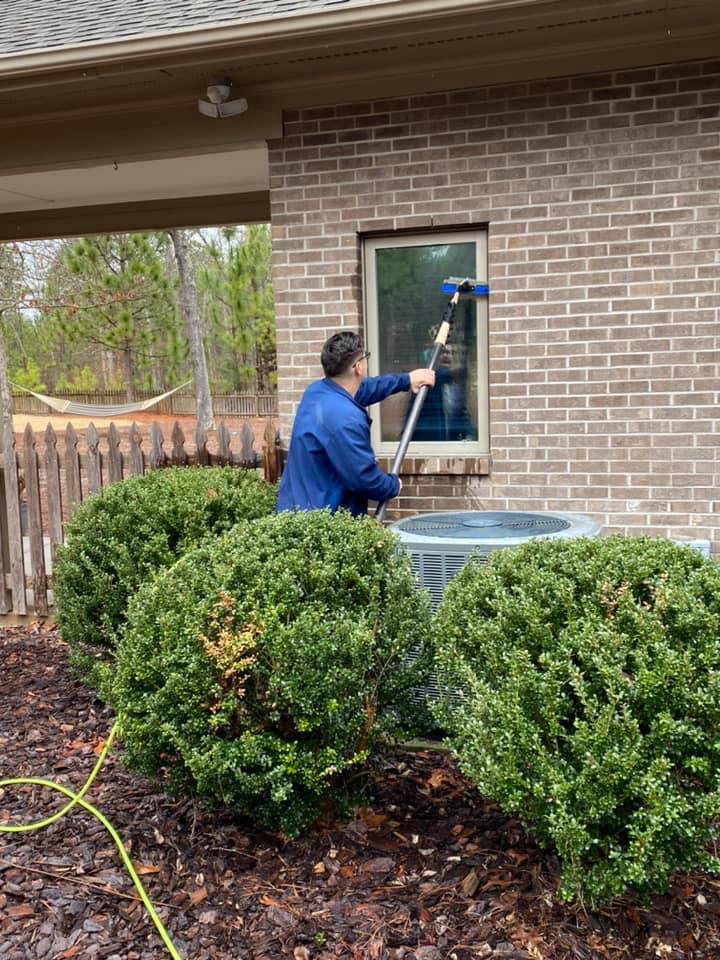 Local. Trusted. Family Owned.
Expert House Washing Carthage NC Residents Trust
Call Today for House
Washing in Carthage, NC!
Our cleaning professionals have the expertise required to pull off a professional house washing service. They are adequately trained and have attained an enviable level of expertise in the cleaning process. However, everyone knows that adequate training is not enough. There is a need to supplement your training with experience, and our professionals have this in abundance.
They have worked on different building types in different locations in the past. Therefore, we guarantee that regardless of the peculiarities of your building, our team of professional cleaners is more than capable of handling the house washing process.
Finally, the materials we use in the house washing process are not only effective for cleaning but also safe for the building. This means that the cleaning agents do not contain harmful chemicals or ingredients that put you or your building at risk. At the end of the day, these cleaning agents are safe for the building, its occupants, as well as the environment.
We also offer a variety of other services such as: