Local. Trusted. Family Owned.
Commercial Pressure Washing Carthage, NC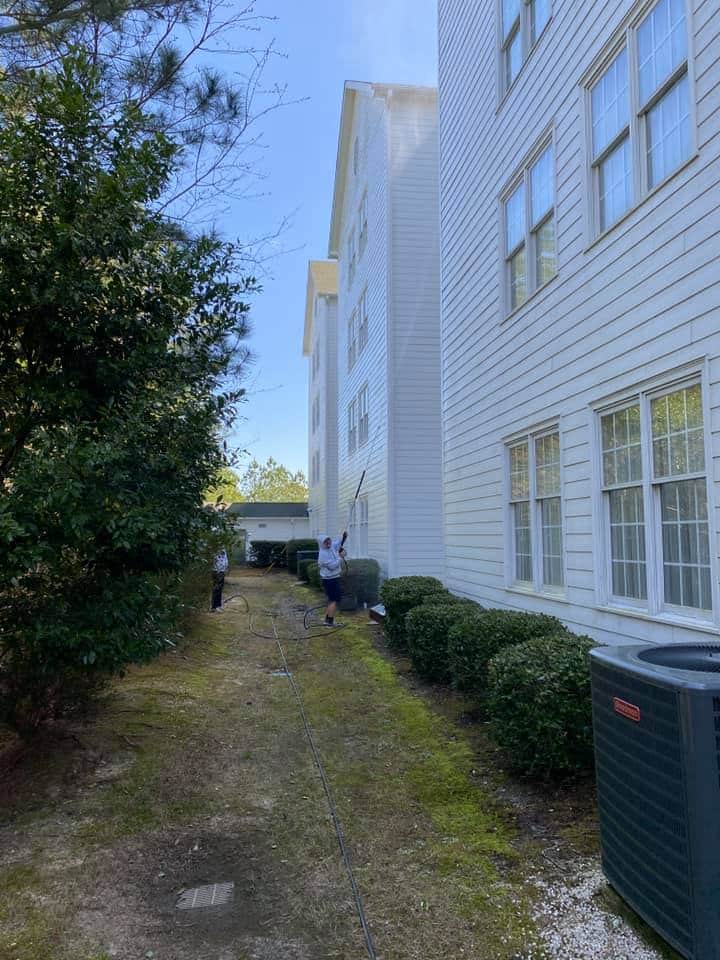 We Also Offer Commercial Window
Cleaning in Carthage NC
Have you spent the past few days searching for a credible commercial pressure-washing company? Is your business in need of a much overdue renewal? Are you worried that the external look of your business property is affecting customer influx? If you answered yes to either or are disturbed by a similar scenario, today is your lucky day!
We are Gentle Renew Exterior Cleaning, a family and locally-owned business. Carthage, NC, happens to be the next place we take our unmatched excellence. Our team consists of veteran experts who are constantly eager to make you happier than ever.
With an awareness that owning a property is a significant investment, we have perfected our residential and commercial cleaning skills. Right along with excellence is an unwavering love for family and community. This is what we are even more proud of.
Commercial services we offer include graffiti/rust removal, dryer vent cleaning, building washing, and property maintenance. Delivering either service fully requires know-how, top-of-the-line equipment, and enthusiasm. The good news is that we have all three qualities in abundance. Contact us now if you need commercial pressure washing services in Carthage, NC.
Expert Commercial Pressure Washing
Carthage NC Residents Trust
Undoubtedly, customers first see the external parts of your business property. If it's a first-time customer, then you surely want to make a good impression. Every business owner wants to make a good impression at all times. This makes commercial cleaning especially important. Then, the time and frequency of cleaning are as important as the cleaning itself.
Commercial properties are more exposed to human and vehicular traffic—chemical stains, graffiti stains, and rust build-up. You'd need to get these stains off without any ands, ifs, or maybes. If it's such excellence you want, Gentle Renew is your guy.
Now, there's something to be said about how appealing a property's skyline is when the windows are sparkly. Since commercial properties are often designed with large-sized windows, the bulk of aesthetics depends on whether they're clean. Dirty windows in your commercial property will hamper airflow and possibly deter customers.
Not only is the air quality in your offices important for employee health, but it also affects customers. These make commercial window washing a serious property maintenance service.
You can count on us for your commercial window cleaning needs in Carthage, NC.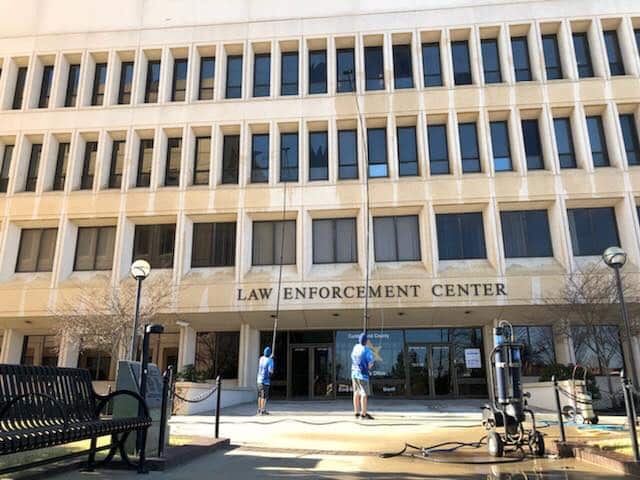 Local. Trusted. Family Owned.
Searching for Commercial Window Cleaning Near Me?
Call Today for Commercial
Window Cleaning in Carthage, NC!
Moreover, pressure washing is a guaranteed method of expelling stains, whether it's a storefront, hotel, gas station, business park, grocery store, or office complex. It's preferred as a cleaning method for commercial properties. Nevertheless, pressure/power washing isn't a cakewalk. Worse than stains you can see on your property are the ones hidden in vents and orifices.
Since power washing can knock out these stains no matter where they're hidden, professionalism is important. Here at Gentle Renew, we ensure to get it right the first time. Our commercial pressure washing services are second to none.
Located in Moore county, North Carolina, Carthage is a sparsely populated town. Some even insist it's more of a village than a town. It was incorporated in 1796 and has remained part of the Fayetteville combined statistical area. Quite admirably, residents of this small town live out NC's motto every day; "to be rather than to seem."
Overall, keeping your property clean as a whistle should be a priority for you. Owning a business property is no easy feat, and we're eager to be part of your success journey.
Reach out today to experience cleaning expertise at its finest!
We also offer a variety of other services such as: