Local. Trusted. Family Owned.
Pressure Washing Pinehurst, NC
Top-Rated
Power Washing in Pinehurst, NC
The professional team from Gentle Renew Exterior Cleaning is pleased to offer reliable and transformative pressure washing Pinehurst, NC, services and power washing Pinehurst, NC, services to all homeowners in the area. We have been in the exterior surface cleaning industry for many years, and our team members are some of the best in the industry. We know the value of taking care of your place, and we know the importance of a pressure washing service in Pinehurst, NC. If you have been searching for Pinehurst power washing companies near me, then please look no further than our dedicated cleaning crew from Gentle Renew Exterior Cleaning.
Searching for Pinehurst
Pressure Washing Near Me?
Our professionals have a variety of Pinehurst pressure washing near me and Pinehurst power washing near me services that we offer to our customers. We have the knowledge and the equipment needed to clean your home's exterior walls, gutters, walkways, driveway, patio, deck, paver stones, and almost any other outdoor surface area. Our power washing services Pinehurst, NC, area are reliable, affordable, and safe for all types of building materials. Gentle Renew Exterior Cleaning is a fully licensed and insured company. We always follow safety precautions and industry guidelines with all of our power washing services Pinehurst, NC, region.
As a locally-owned and operated company, we understand the weather conditions that our building materials face, and we know how to prepare exterior surfaces for extreme heat, humidity, rainstorms, and other weather elements. Pressure washing the outdoor surfaces around your property will help increase the curb appeal of your place, increase the value of your property, and will help protect the integrity of your building supplies, too. Most experts recommend that outdoor surfaces should be cleaned about every year or two, depending on the local climate, the vegetation you have around your home, and your personal preference. Our goal is to be your trusted pressure washing Pinehurst, NC, company for all of your outdoor surface cleaning projects.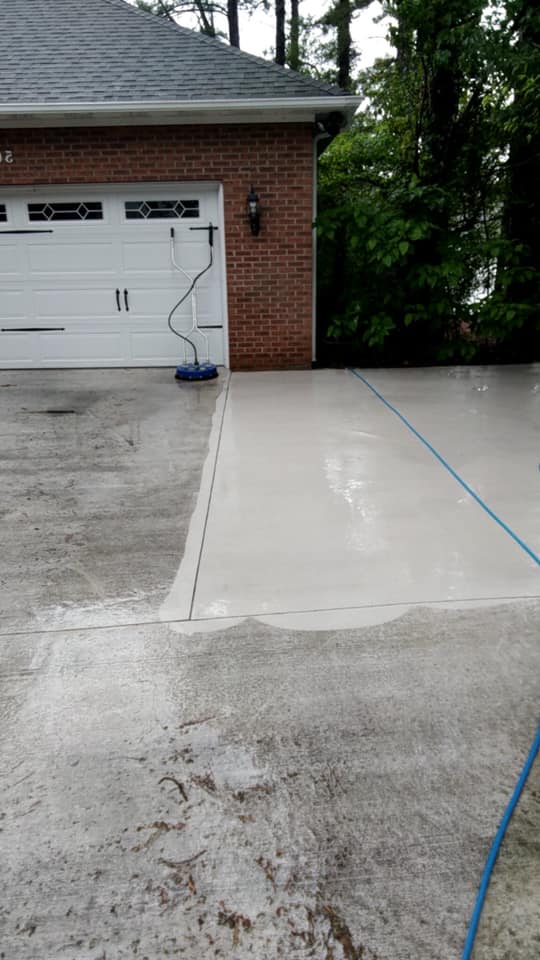 Local. Trusted. Family Owned.
Power Washing Services Pinehurst, NC Residents Trust
Call Today for Pressure
Washing Services in Pinehurst, NC
Pinehurst is a historic and welcoming city that is located in Moore County, NC. The community has been dubbed as the "Home of American Golf". The historic Pinehurst Resort offers a beautiful golf course, spa facilities, tennis courts, and spectacular lodging accommodations. Approximately 16,000 people live in Pinehurst, and many more people visit the area throughout the year. Pinehurst has much to offer, including; plentiful restaurants, quaint shops, boutiques, coffee shops, antique stores, and family-friendly places to explore. A couple of the most popular venues include Pinehurst Lake and the Camelot Playground.
If you are a homeowner in the region and you have been looking for a pressure washing service near me Pinehurst, NC, or for Pinehurst power washing services near me, then please remember our well-established company, Gentle Renew Exterior Cleaning. Our team members understand that the success of our company depends directly on the satisfaction of our customers. This is why we all work diligently and carefully to provide the most spectacular services we can for every customer. We know that your home is a significant investment for you. We hope to earn your trust and your loyalty with our top-quality services so we can help you take care of your investment. Our professionals are available year-round, and we look forward to hearing from you at any time!
We also offer the following services in Pinehurst, NC: