Local. Trusted. Family Owned.
Window Cleaning Pinehurst, NC
Searching for Pinehurst
Window Cleaning Near Me?
Have you ever looked out your windows and seen spots of dirt or dust that interfere with your view of the beautiful day? If so, then you may find yourself wondering about a professional window cleaning Pinehurst, NC, service. The experienced cleaning crew from Gentle Renew Exterior Cleaning is proud to offer reliable and affordable window cleaning services Pinehurst, NC, area. We have been cleaning exterior surfaces and providing professional window cleaning Pinehurst, NC, services for many years. We are interested in taking care of your window washing Pinehurst, NC, services any time of the year.
Window Washing
Pinehurst, NC Residents Trust
Gentle Renew Exterior Cleaning is a licensed and insured company. We are also a locally-owned and operated residential window cleaning Pinehurst, NC, company. The type of window cleaning service Pinehurst, NC, we perform is meant to be an all-inclusive service. We use pure water technology to rid your windows of streaks or stains that you may have thought were too stubborn to be erased before now. From the top of your window's glass to the bottom of the glass, we work methodically to ensure we touch every single spot, and we will leave your windows with remarkable shine. Additionally, we clean the window frame and sill, so the entire expanse of the window area looks renewed and restored.
We know that when you are looking for a Pinehurst residential window cleaning near me service or a Pinehurst window washing near me service, you want to find a company that is knowledgeable, trustworthy, and practices safe cleaning methods. The cleaning technique we use with pure water technology allows our professionals to clean the windows of your home from the ground level. We use a water hose that can reach windows up to 3 stories high, and we provide transformative results by using this technique. We believe our customers will be highly pleased with the results from our window cleaning Pinehurst, NC, services, and with the non-invasive cleaning techniques, we use during the process.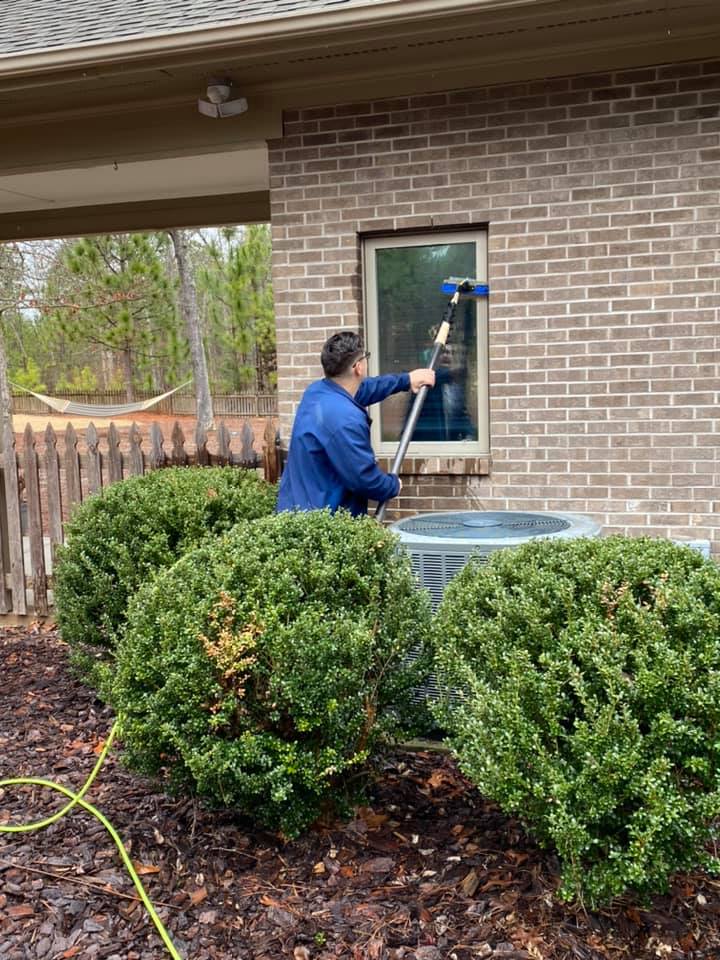 Local. Trusted. Family Owned.
Professional Window Cleaning Services in Pinehurst, NC
Call Today for Top-Rated Residential
Window Cleaning in Pinehurst, NC
Pinehurst is a small and quaint community that is home to approximately 16,000 people. Visitors flock to Pinehurst to enjoy the moderate weather and the plentiful golf courses in the area. Once dubbed "Home of American Golf", Pinehurst is well-known around the world for being a golf capital to enjoy throughout the various seasons. Pinehurst Resort offers an iconic golf course, as well as tennis facilities, a spa, meeting rooms, hotel accommodations, and more. This historic resort is a wonderful place to visit any time of the year. The town of Pinehurst also has much to offer, with wonderful restaurants, inviting shops, and family-friendly entertainment venues.
If you live in Pinehurst and you have been looking for Pinehurst window cleaning services near me or a Pinehurst window cleaning near me company, then please reach out to the enthusiastic cleaning crew from Gentle Renew Exterior Cleaning. Our team members are knowledgeable about all types of outdoor cleaning techniques, and we are proud to offer some of the best window cleaning Pinehurst, NC, services in the region. Our professionals are always available to answer any questions you have for us, and we are glad to schedule your next cleaning service, too. As always, we look forward to speaking with you at any time! We are excited to hear from you and work with you any time of the year!
We also offer the following services in Pinehurst, NC: