Local. Trusted. Family Owned.
Gutter Cleaning Pinebluff, NC
Searching for Pinebluff
Gutter Cleaning Near Me?
The Gentle Renew Exterior Cleaning professionals are pleased to provide reliable gutter cleaning Pinebluff, NC, services for homeowners throughout the community. Our experienced cleaning crew has provided transformative and dependable gutter cleaning services for many years. We know the value of having clean and fully-functional gutter systems, and we welcome the chance to take care of your gutter cleaning service any time during the year! When it's time for your gutters to be attended to, then please reach out to our team from Gentle Renew Exterior Cleaning. We are excited to hear from you!
We are a full-service exterior surface cleaning and gutter cleaning company. When we arrive at your home, we will inspect your gutter system for any damage, such as bends, cracks, or loose areas with the gutter system. We will check the gutters and the downspouts for blockages, such as tree limbs, leaves, pine needles, animal nests, or any other substance that can interfere with the flow of rainwater through the gutter channels. You can rely on us to clean your gutter system thoroughly and determine that the entire system is in proper working order.
Expert Gutter Cleaning Pinebluff
NC Residents Trust
Homeowners in Pinebluff depend on their gutter systems to protect their homes. The gutters allow water to flow away from your home and into the ground surrounding your property. If the water does not flow correctly, then it may flow to unsuspecting parts of your home and can cause significant damage to the building materials. We want to be your trusted partner in providing the rain gutter cleaning services that protect you, your family, and your home.
Gentle Renew Exterior Cleaning is a fully licensed and insured company. Our team members are equipped with the supplies and the tools needed to thoroughly and safely clean all types and sizes of gutter systems. We work systematically and carefully to thoroughly rid your gutters of debris that can be harmful to your home. We also work closely with homeowners to keep you informed of the process we use and the results from our services.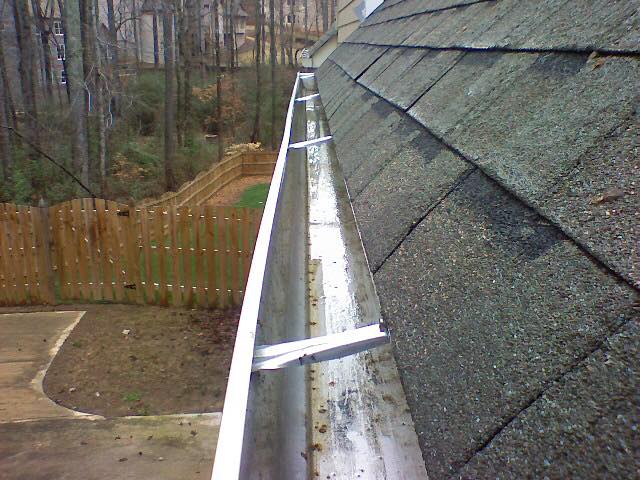 Local. Trusted. Family Owned.
Professional Gutter Cleaning Services Done Right
Call Today for Gutter Cleaning
in Pinebluff, NC!
Pinebluff is a scenic and welcoming community that is home to around 1,600 people. This region of North Carolina is distinguishable by the gently rolling hills and the plentiful pine trees that are around the area. Golfing and horseback riding are popular recreational activities in Pinebluff. Golfers may want to explore the nearby Legacy Golf Links for a fun and successful day of golf. Pinebluff has much to offer to residents and visitors, including a variety of boutiques and antique shops to explore, local restaurants to enjoy, and many walkable areas around the community.
If you live in Pinebluff and you have been searching for a Pinebluff gutter cleaning near me service that is trustworthy, effective, and affordable, then please reach out to the experienced and enthusiastic cleaning crew from Gentle Renew Exterior Cleaning. Our team members enjoy the work we do for our clients, and we like meeting neighbors throughout the region. We believe the work we do helps people in many ways. We can relieve you of the stress and the dangers associated with gutter cleaning services, and we help you protect your home with thorough and dedicated cleaning services. If you would like to learn more about the gutter cleaning Pinebluff, NC, services we offer, then please contact us at your earliest convenience. We look forward to speaking with you!
We also offer the following services in Pinebluff, NC: