Local. Trusted. Family Owned.
Pressure Washing Pinebluff, NC
Top-Rated
Power Washing in Pinebluff, NC
Cleaning the exterior surfaces around your property will help increase the curb appeal of your place, protect the building supplies of your home or business, and will help increase the property value of your place, too. If you have been searching for a reliable pressure washing Pinebluff, NC company, or power washing Pinebluff, NC company, then please reach out to the talented cleaning crew from Gentle Renew Exterior Cleaning. We are a well-established company in the area, and our teammates have a wealth of cleaning expertise that we like to share with our customers.
Gentle Renew Exterior Cleaning is a fully licensed and insured company. As a locally-owned and operated company, we understand the challenges that the building supplies in our region face throughout the year. We are a full-service pressure and power washing company. Our professionals have access to all the equipment and cleaning supplies needed to clean a wide array of outdoor surface areas. We also have the advanced training needed to clean exterior surfaces safely and thoroughly while protecting you, your family, your pets, and your property.
Searching for Pinebluff
Pressure Washing Near Me?
Most professionals recommend that property owners have the exterior surfaces around their property cleaned about every year or two. Untreated surfaces that are dotted with mold, mildew, algae, insect nests, or other organic substances may be permanently damaged or susceptible to premature deterioration. We want to help you clean all outside surfaces around your place, and help you protect your residential or commercial property, too. Our team members understand that your place is a significant investment for you. We have the skills and the knowledge to help you protect your investment and help keep the outdoor environment around your place clean and healthy, too.
We offer all types of exterior cleaning services. From soft washing to power washing services, you can count on us to use the best equipment, cleansers, and cleaning methods to safely clean each kind of exterior building material. Our professionals will gladly provide a pressure washing service for your roof, home, driveway, walkway, patio, deck, fence, commercial building, parking lot areas, and so much more. Our goal is to be your all-inclusive pressure and power washing company.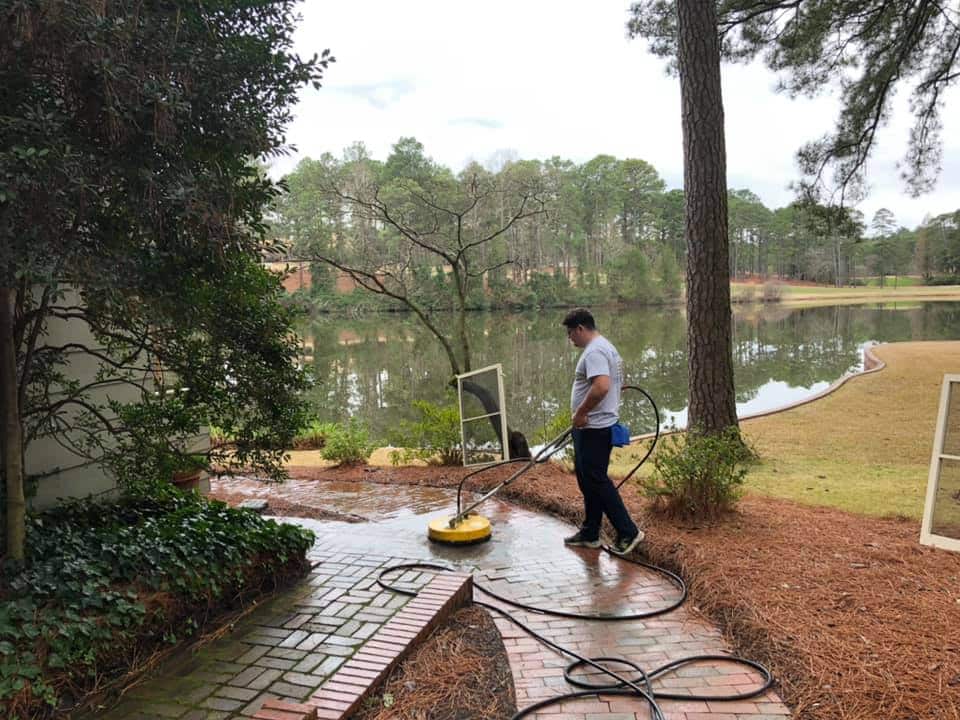 Local. Trusted. Family Owned.
Expert Power Washing Pinebluff NC Residents Trust
Call Today for Pressure
Washing in Pinebluff, NC
Pinebluff is a quaint and welcoming community. Approximately 1,600 people call Pinebluff their hometown, but many more people visit the area throughout the seasons of the year. Pinebluff is a city that is rich in charm, history, and plenty of things to see and do around the area. The community is dotted with interesting antique shops, local restaurants, exciting shops, boutiques, and outdoor recreational venues.
If you are a homeowner or a business owner in the area and you have been searching for a Pinebluff pressure washing near me service that you can rely on, then please reach out to the dedicated and experienced team from Gentle Renew Exterior Cleaning. As residents ourselves, we take great pride in helping our neighbors care for their homes and their business properties. We want to earn your trust and your loyalty with our top-quality exterior cleaning services so that you can call upon us every time you have outdoor cleaning projects. As always, we look forward to hearing from you and working with you any time of the year!
We also offer the following services in Pinebluff, NC: