Local. Trusted. Family Owned.
House Washing Pinebluff, NC
Searching for Pinebluff
House Washing Near Me?
As a homeowner, you take pride in your home, and you understand the significant investment your home requires to stay in tip-top shape. The professionals from Gentle Renew Exterior Cleaning are pleased to offer reliable house washing Pinebluff, NC, services to all homeowners in the region. Our experienced cleaning crew has immense experience in house washing services, and we welcome the chance to clean your home any time during the year. If you have been looking for a trustworthy, affordable exterior house cleaning service, then please reach out to the pros from Gentle Renew Exterior Cleaning today. We are excited to hear from you!
Our professionals use a unique cleaning method to clean the outside surface of a home. This process is called soft washing, and it is the preferred cleaning method for all types of siding washing projects. Soft washing will provide clean and crisp results but will not cause damage to the sidewalls of your home. Our experts work from the top of your home's exterior walls to the base of the foundation to ensure we clean every part of your home. The cleaners we use are safe and environmentally friendly, so you can trust that no harm will come to you, your family, pets, or the vegetation that surrounds your home.
Top-Rated Soft
Washing in Pinebluff
We believe you will be impressed with the thorough and professional house washing services we provide for each client. Through the cleaning process, we will remove all traces of mold, mildew, algae, pollen, insect nests, and any other substance that has developed over time. We know that your home is a significant investment for you, and we will do everything we can to clean and protect your home. Customer satisfaction is very important to us and the success of our company. If you are not happy, then we are not happy!
Pinebluff is a quaint community that is located in Moore County, North Carolina. The city is home to around 1,600 people, and many more people visit the peaceful area throughout the year. Pinebluff is situated south of the Pinehurst/Southern Pines area, which is known for having plentiful golf courses and equestrian events. Pinebluff also offers these outdoor recreational activities, as well as several local restaurants to savor, antique shops to explore, and local parks to enjoy, too.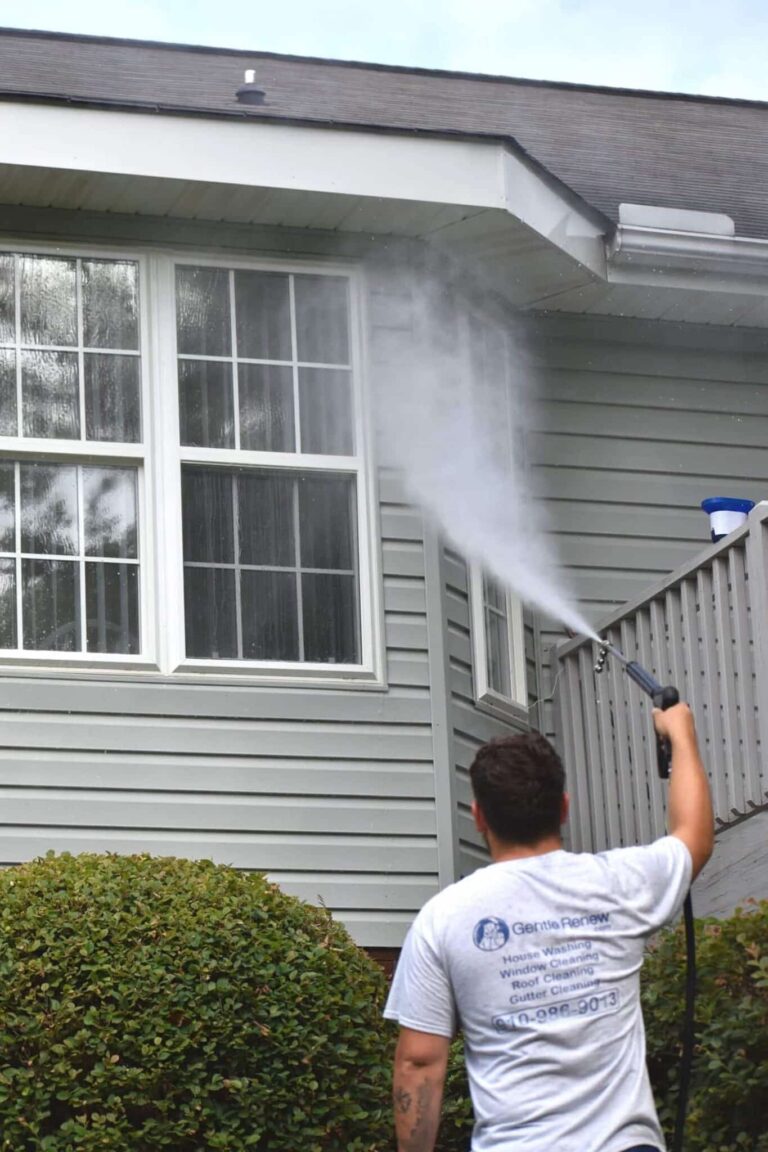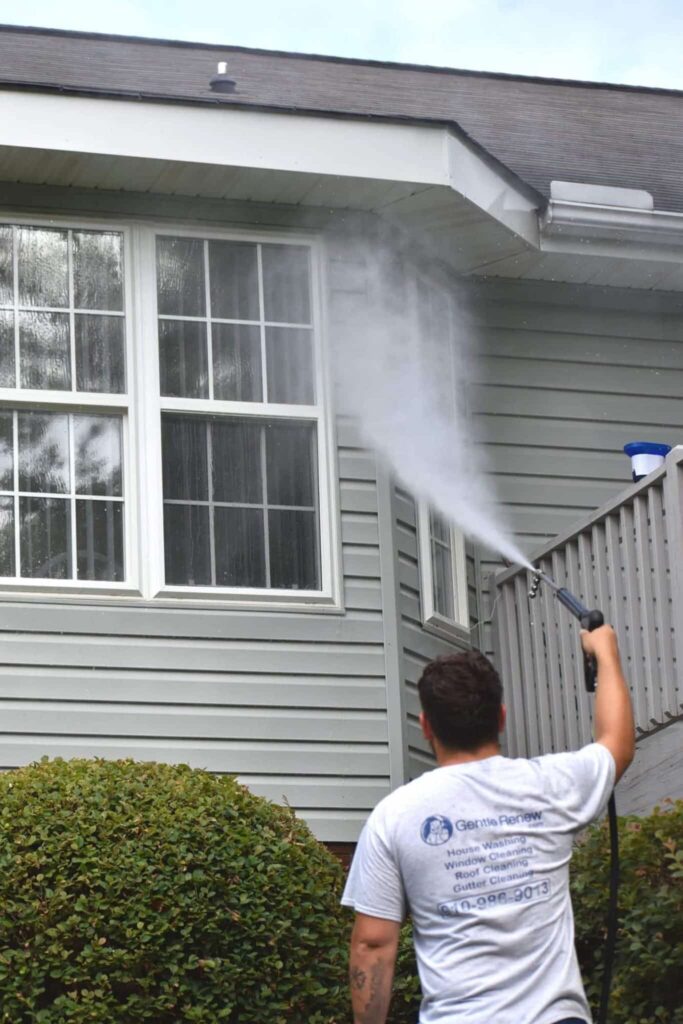 Local. Trusted. Family Owned.
Expert House Washing Pinebluff NC Residents Trust
Call Today for House Washing
in Pinebluff, NC
If you are a homeowner in the region and you have been looking for a Pinebluff house washing near me service that you can count on, then please reach out to the knowledgeable and enthusiastic cleaning crew from Gentle Renew Exterior Cleaning. House washing services are our specialty, along with a wide array of many other types of outdoor cleaning services. Our team members use top-of-the-line equipment and cleansers to clean the outside of your home safely and thoroughly. We understand the value of having clean building supplies, and we enjoy meeting neighbors throughout the community.
If you are ready to schedule your next house washing service, or if you would like to hear a free quote for an exterior cleaning service, then please reach out to a representative from Gentle Renew Exterior Cleaning at your earliest convenience. We are prepared and ready to take care of your outdoor cleaning projects at any time!
We also offer the following services in Pinebluff, NC: