Local. Trusted. Family Owned.
Roof Washing Pinebluff, NC
Searching for Pinebluff
Roof Cleaning Near Me?
The Gentle Renew Exterior Cleaning professionals are proud to offer transformative roof cleaning Pinebluff, NC, services to all homeowners in the area. Our dedicated team members have had many years of roof washing experience, and we welcome the chance to clean the roof on your home any time during the year.
We know that your home is an important place to you, and we specialize in the unique roof washing services that protect the top of your home, as the roof protects you from bad weather, intense sunlight, and other elements, too. When you are looking for a Pinebluff roof cleaning near me service that is reliable, safe, and affordable, then please reach out to the pros from Gentle Renew Exterior Cleaning. We are excited to hear from you!
Professional Roof Cleaning
in Pinebluff
Gentle Renew Exterior Cleaning is an insured, licensed, and certified roof cleaning Pinebluff, NC, company. Our cleaning enthusiasts use a safe and effective cleaning method for roofing materials called roof soft washing. During a soft wash roof cleaning service, our experts apply an environmentally-safe cleanser to the surface of the roof. We allow the cleanser enough time to penetrate the algae and moss that have developed along the surface. Next, we use low-pressure water to remove all traces of the cleanser, as well as total algae and roof moss removal, too. The results are amazing from the roof soft washing process we use for our customers.
All of our team members strive for 100% customer satisfaction. We want to earn your trust and your loyalty with our reliable services, and the attentive dedication we provide for each project. In addition to providing top-quality roof washing services, we also offer a wide array of other exterior surface cleaning services. We hope to be your all-inclusive outdoor surface cleaning company for all of your needs.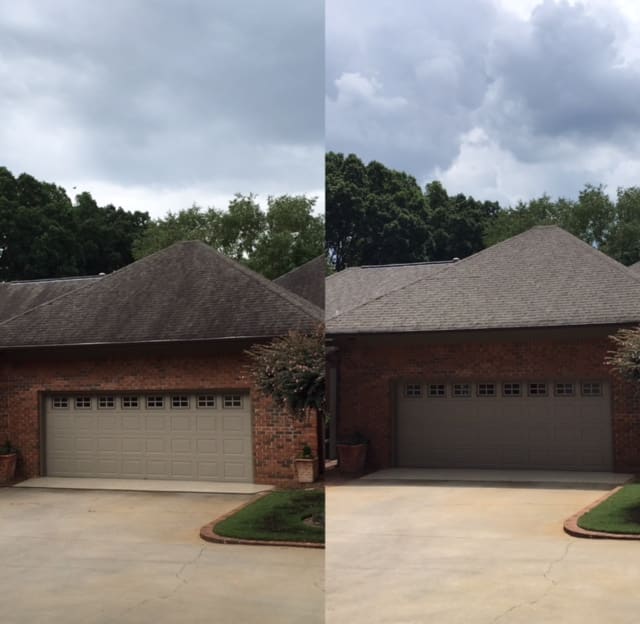 Local. Trusted. Family Owned.
Expert Roof Washing Pinebluff NC Residents Trust
Call Today for Roof Cleaning
in Pinebluff, NC!
Pinebluff is a quaint and welcoming community that is home to approximately 1,600 people. It is located in Moore County and is just south of the thriving communities of Southern Pines and Pinehurst.
Visitors and residents in Pinebluff can enjoy strolling through various antique shops and boutiques in the area, as well as savor wonderful restaurants or enjoy regional outdoor recreation, too. The nearby Legacy Golf Links is a nice place to tee off on your next golf game, and Railside Antiques is a popular antique store you may want to peruse one afternoon. Pinebluff is also dotted with many local parks that can be enjoyed throughout the year.
If you are a homeowner in Pinebluff or the surrounding vicinity, and you have been thinking about a roof washing service for your home, then please reach out to the experienced and dedicated team from Gentle Renew Exterior Cleaning. Our professionals have access to all of the professional-grade equipment and supplies needed to enhance your home with roof cleaning services. We strive for perfection and for complete satisfaction with every service we perform. Our team members are glad to answer any questions you may have for us, as well as provide you with a free estimate for a potential cleaning service. We always look forward to hearing from our clients and speaking with you about your next exterior cleaning service.
We also offer the following services in Pinebluff, NC: