Local. Trusted. Family Owned.
Window Cleaning Pinebluff, NC
Searching for Pinebluff
Window Cleaning Near Me?
If you have ever looked through windows that are dotted with specks of dirt, animal droppings, or spider webs, then you know those elements can distract you from the rest of the view outside your window. The cleaning enthusiasts from Gentle Renew Exterior Cleaning would like to offer top-quality window cleaning Pinebluff, NC, services to all homeowners in the community. We have the training, the skills, and the equipment needed to clean all styles and sizes of windows. Our professionals have many years of practice in window cleaning services, and we welcome the chance to take care of your windows any time during the year!
Gentle Renew Exterior Cleaning is a professional window cleaning company. Our team members have advanced training and professional-grade equipment that allows us to thoroughly and precisely clean your home's windows. We use a unique water-fed-pole system to wash away specks of dirt and grime that have accumulated along the window's surface over time. This pole system uses pure, de-ionized water that provides spectacular results with every window cleaning service we perform. Additionally, the pole system can extend to reach the highest windows in your home.
Expert Window Washing
Pinebluff NC Residents Trust
Our team members take great pride in the residential window cleaning services we offer to homeowners in Pinebluff. We understand that window washing can be a challenge for many people, due to the intricacies of reaching windows high off the ground or windows that are flanked by attractive vegetation. Our experts have experience and training in working with tall ladders, extendable poles, and other equipment that enables us to provide high-quality window washing services in a safe and secure environment. Our goal is to earn your trust and your loyalty with our dedicated services while we provide you with window washing services that are transformative for your home.
Pinebluff is located in the sandhills of North Carolina. The region is characterized by having gently rolling hills, sandy soil, and plenty of pine trees. Outdoor recreation is popular in the region, and horseback riding and golf are a couple of the main attractions throughout the area. People in Pinebluff can enjoy a day of golf at the nearby Legacy Golf Links, among many other golf courses around the community. If shopping for antiques is an interest of yours, then you may want to check out Railside Antiques, which is located in the close community of Aberdeen, NC. Pinebluff is situated in Moore County, and it is a beautiful, quiet place to live in or to visit.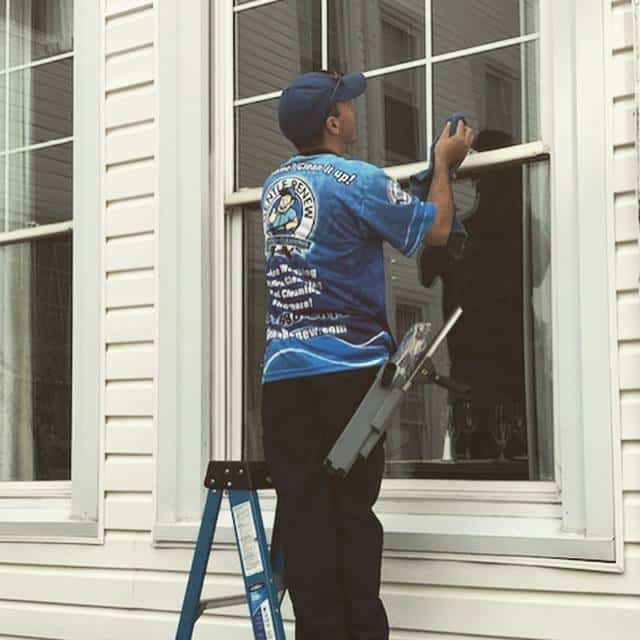 Local. Trusted. Family Owned.
Professional Window Cleaning Services Done Right
Call Today for Residential Window Cleaning
in Pinebluff, NC!
If you are a homeowner in Pinebluff or the surrounding area and you have been looking for a Pinebluff window cleaning near me company that is reliable, experienced, and affordable, then please reach out to the pros from Gentle Renew Exterior Cleaning at your earliest convenience. We enjoy working with our neighbors and helping people in Pinebluff take care of their homes throughout the year. We know your home is a valuable asset to you. We want to be your trusted partners in helping you care for your home with our top-rated exterior cleaning and superior window washing services.
You can rely on us to make your windows sparkle, as well as the window sills and framework, too. If you would like to learn more about the window washing services we offer, or if you are ready to schedule your next window cleaning service, then please contact us today! We look forward to speaking with you!
We also offer the following services in Pinebluff, NC: