Local. Trusted. Family Owned.
Commercial Pressure Washing Jackson Springs NC
We Also Offer Commercial Window
Cleaning in Jackson Springs NC
We all want our homes, businesses, offices, and commercial spaces to look their best. That's exactly why we clean on a regular basis. However, cleaning can be physically demanding and time-consuming. You may not receive top results if you do not commit the time and energy needed.
Gentle Renew is a local family-operated business that offers exterior cleaning services to the residents of Jackson Spring, North Carolina, and the surrounding areas. We use state-of-the-art equipment for commercial and residential cleaning services. We offer commercial pressure washing, power washing, and window cleaning to our customers.
Whether you need us to clean your home or office space or even if you run a large warehouse or industrial facility, we have the experience, equipment, and knowledge needed to clean your property the way you envision it.
At Gentle Renew, we're committed to meeting and exceeding every of your commercial exterior needs. We've been cleaning commercial business spaces in Jackson Springs, North Carolina, with detailed attention to all the surfaces that most of our competitors neglect. This means we will handle big cleaning jobs like window cleaning and pressure washing in ways no other company can match.
Expert Commercial Pressure Washing
Jackson Springs NC Residents Trust
Furthermore, Gentle Renew Exterior Cleaning keep your house building looking its best, so why wouldn't you extend the same professional standards to the cleanliness of your commercial property? Our service is second to none, and we offer a money-back guarantee if you're unhappy with our work. That rarely happens because we do our best to provide you with quality service.
Our mission at Gentle Renew is to restore your property's exterior to a safe, welcoming, clean appearance that workers will appreciate, clients and neighbors alike. Let our professional after-hours cleaning staff give your premises the gentle renewal it deserves. With the support of our qualified cleaners, you'll have more time to focus on making more money.
We offer reliable commercial services in Jackson Spring, NC, at the most competitive price possible. You might feel overwhelmed by the options: pressure wash, power wash, pole wash, or soft wash? How do they compare? Do they offer insurance and a bonded workforce? Is it eco-friendly enough? How much is it going to cost me? Where do I find one?
Gentle Renew offers you a simple solution. We've made exterior cleaning services in Jackson Springs, NC, easy and pleasant. Commercial buildings wear over time and need constant upkeep. At Gentle Renew, we offer exterior cleaning services, including pressure washing, window washing, and other commercial cleaning services, all at once.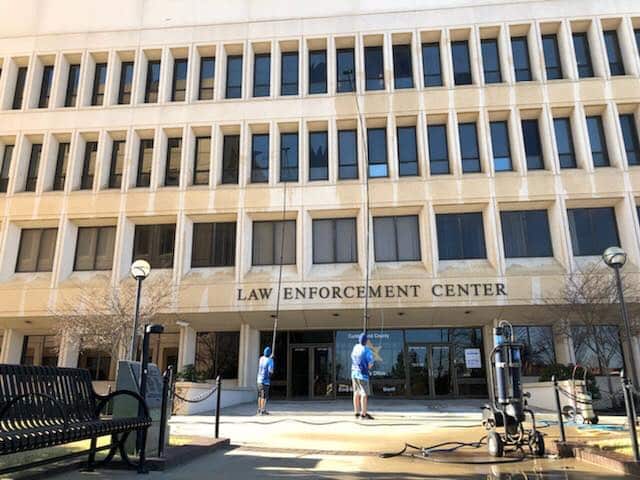 Local. Trusted. Family Owned.
Searching for Commercial Window Cleaning Near Me?
Call Today for Commercial
Window Cleaning in Jackson Springs, NC!
Furthermore, we use only eco-friendly products to clean your building. Our exterior cleaning services will clean a surface area (a building exterior, deck, or escalade) while protecting plants and embellishments around it. We'll apply our professionally formulated products as follow-up treatments to remove tough stains, mold, and mildew while adding a protective coating that maintains the beauty of your property.
Jackson Springs is a small community in Moore County, North Carolina, with a population of 3000. The CDP is known for the peculiar springs that are said to have health benefits. While visiting, you can check out locations such as the Fox Fire Golf and Country Club and West End Antique. It might be a small, quiet area, but it is not lacking in beauty and serenity.
Keeping your commercial property in top condition to attract and retain customers can be overwhelming for even the most vigilant business owners.
Attracting and retaining customers with an attractive, clean, and well-maintained building is essential for any business. Call us at Gentle Renew to give clean every exterior surface of your business. We cannot wait to work with you!
We also offer the following services in Jackson Springs, NC: