Local. Trusted. Family Owned.
House Washing Jackson Springs NC
Searching for Jackson Springs
House Washing Near Me?
Every homeowner understands the importance of cleaning and maintaining a building. Apart from being the basic maintenance activity, it retains the aesthetics of the building, makes it safer to live in, and ensures its structural stability. Off the back of this importance, we introduce the best house washing service in Jackson Springs, NC, to you.
If you are a homeowner or a resident of Jackson Springs, NC, and need a Jackson Springs house washing service around you, Gentle Renew Exterior Cleaning remains the best option for you. We are a leading house washing service provider focused on providing homeowners in Jackson Springs, NC, with the best house washing service.
The highlight of our services includes working with a set of professional cleaners, combined with professionally-acceptable house washing methods and high-quality cleaning agents and materials. These three constituents of our service ensure that our clients receive a professional house washing service when they partner with us.
The professional cleaners working with us are trained, qualified and experienced. They receive their training from accredited institutions, completed with practical experience on the jobs. Each of them is a qualified cleaner with different regulating bodies and has also worked on different types of buildings in the past.
Top-Rated Soft
Washing in Jackson Springs
Thus, we promise that the only thing you get from our cleaners will be professional conduct and an expertly cleaned building. In a quest to ensure that our clients enjoy the best house washing service in Jackson Springs, NC, we ensure that our cleaning methods are in line with the globally accepted standard.
Also, we exist in an industry that is regulated; as a result, our house washing techniques need to meet industry standards. At the end of the day, we have managed to curate house washing techniques that meet global standards without contravening the set-out rules of the industry. Therefore, our clients enjoy house washing services that are safe for their buildings and hold no adverse effect on their occupants.
The same thing goes for the equipment and cleaning materials used to deliver our house washing services in Jackson Springs, NC. These washing agents and materials do not contain harmful chemicals, are environmentally safe, and do not affect the structural integrity of the building. Thus, when we are done washing and cleaning your building, you can move in and use your building with no fear.
When you employ a professional house washing service provider, what you expect is a thorough house washing process. That is exactly what you get with Gentle Renew Exterior Cleaning. Our house washing services include exterior house cleaning. We also offer soft washing and siding washing services for the outdoor parts of the building.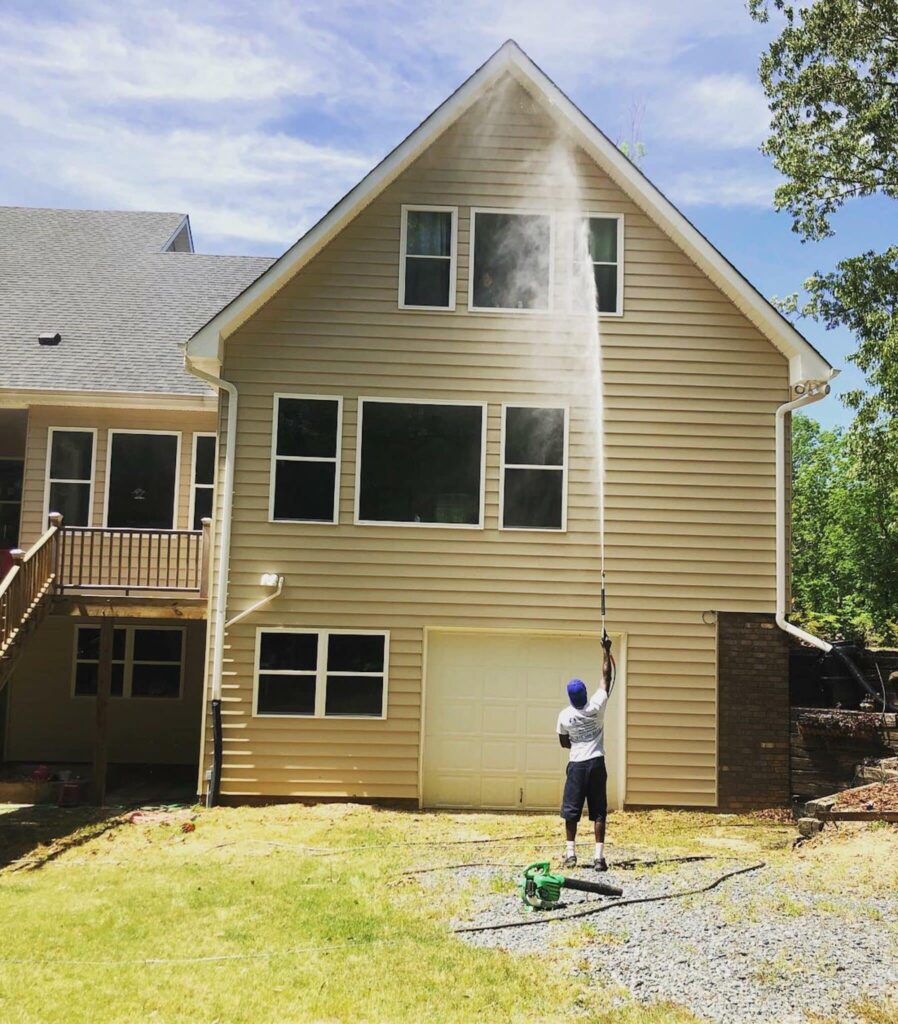 Local. Trusted. Family Owned.
Expert House Washing Jackson Springs NC Residents Trust
Call Today for House
Washing in Jackson Springs, NC!
These exterior house washing services depend on the type of stain or dirt on the building. The service you get depends on the type and complexity of the stain or dirt that you want to be removed. All you have to do is reach out to us and provide us with the information regarding the part of the building you want to be washed and the results you are hoping to achieve.
Once you do all of that, our team of cleaners gets to work, and in due time, you get a building that reeks of a professional house washing service. We are a family-owned business that has established a cordial relationship with the locals in Jackson Springs, NC.
Therefore, you can trust us like the multitude of residents of Jackson Springs who trust us with their house washing needs. Reach out to us now, and let's get your building looking vibrant again!
We also offer the following services in Jackson Springs, NC: