Local. Trusted. Family Owned.
Window Cleaning Jackson Springs NC
Searching for Jackson Springs
Window Cleaning Near Me?
Wouldn't it be nice if there was a company you could hire for window cleaning that showed up, did their job like they promised, and left before you even knew they had been there? You've got a clean, hygienic house, but you don't remember when you cleaned your windows last. With us at Gentle Renew, your windows will gleam like new.
Gentle Renew Exterior Cleaning provides customers with high-quality exterior window cleaning services in Jackson Spring, NC, and we have been doing so for decades. We offer general exterior cleaning services, whether it's for commercial work, household window cleaning, roof cleaning, house washing, power washing, or gutter cleaning.
But don't just take our word for it; ask around, and you'll hear nothing but great reviews. From your front door to the back of your house, we make sure your windows sparkle year-round. Whatever the weather conditions, you can count on us to deliver excellent service every time.
You might be wondering how our window cleaning service works. We have highly-trained professionals available to clean your windows effectively. Our team removes streaks and stains from the top of the windows to the bottom. Furthermore, we wipe window sills and frames so the entire window area shines like it is brand new.
Expert Window Washing
Jackson Springs NC Residents Trust
Why is our service the best in Jackson Springs? Residents and commercial companies love us for our fast response times, friendly tone, flexibility, and expert service. Our team of insured and bonded experts will provide excellent exterior cleaning services that are simply the best.
If you have windows that need cleaning, you've probably noticed they can get pretty grimy. Over time, the buildup of dirt and grime can affect the comfort of your home – and your productivity. The dirt, grease, and grime build-up accumulate in the air, robbing you of precious energy savings from your high-performance windows.
Call Gentle Renew Exterior Cleaning for upholstery, carpet, and window cleaning in Jackson Spring, NC. We're happy to talk about your needs and then come up with a solution for you based on the specifics of your home or business.
Having a clean and sparkling home is important to most of us. Keeping it that way is a chore, but you want it, you need it, so you do it. Yet after all the work, mess always seems to find its way back into your home.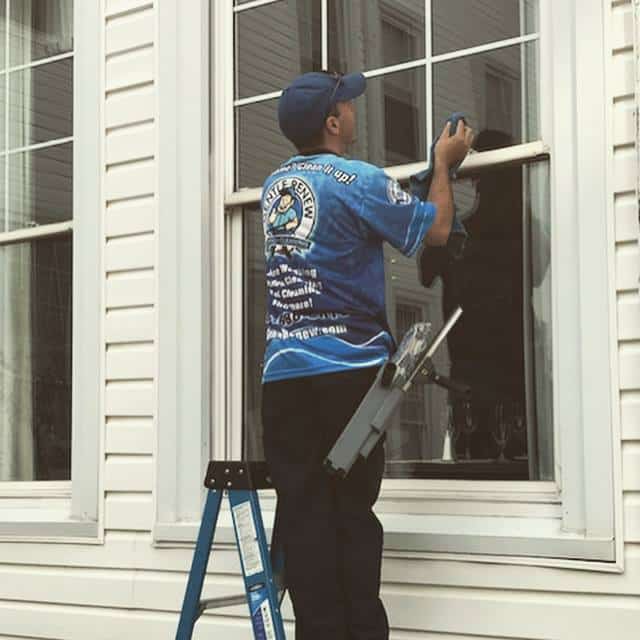 Local. Trusted. Family Owned.
Professional Window Cleaning Services Done Right
Call Today for Residential Window Cleaning
in Jackson Springs, NC!
We have a comprehensive 1-hour window cleaning service where we meticulously scrub from top to bottom to remove soap film and hard water spots from your windows and blinds using biodegradable detergents. The result is beautiful streak-free windows that look like professionals have freshly installed them.
Jackson Springs is an unincorporated county in North Carolina. The town was known in the 90s for the springs, which people called "healing mineral springs." It was said to cure dyspepsia, kidney, and rheumatism. The Spring made the town a popular health resort. Today, the city is mostly a residential area which also opens its doors to visitors and tourists.
Cleaning your windows regularly is the secret to keeping them looking and functioning beautifully for years. We are the only company in Jackson Springs, North Carolina that has invested in the technology necessary to clean with these nanofibers and protect them for the future. Call us today to restore your window to how it looked when you first bought them. We can't wait to hear from you!
We also offer the following services in Jackson Springs, NC: